My Products:
Think if it this way. If you want to set your collection down on something, it probably belongs in a drawer-case or maybe a glass-top coffee table. Have a look at my Drawer Cases below or Furniture under Miscellaneous. On the other hand, if you want to display it on the wall, you want a Display Case of some sort.
I'm shutting down my saw-dust making efforts for the nonce but have some nice things left for which I'd like to find a good home. For some killer savings, check it out.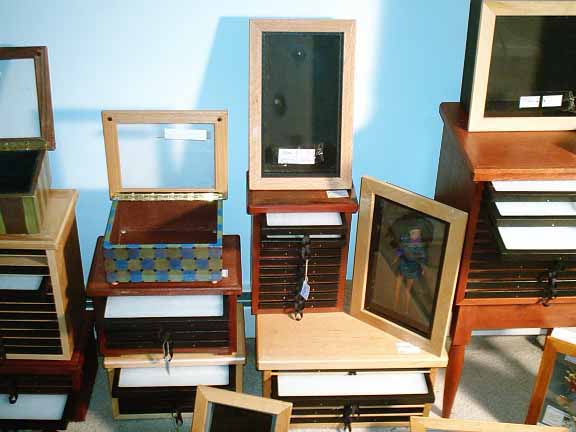 DRAWER CASES:
Part and parcel of a system to both protect and display your collection with the greatest of ease. Be sure to check out Riker Frames below.

Smallish hardwood drawer cases sized perfectly to hold her very best stuff in velvet flocked Jewelry Box Inserts.
A little larger then the jewelry boxes, but in the same style and materials. Some are sized to hold a large Riker-Mount. Locks & / or legs are also available.



About the same foot-print as the Medium cases above, but with drawers that get deeper from the top to the bottom. Ideal for collection of items of various sizes.

These can get as big as you want. Their style & options matches the three previous styles. If you need something even bigger or more creative, check out….




Based on my architectural drawer cases, but with lots of interesting options. Fancy tops. Vaarious finishes, Simple or elegant period bases. And you can swap the drawers around when the spirit moves you -or your collection changes.




Get exactly what you want in a drawer case. Any size, any number of drawers any period / style, and wood, and any finish. Have a look at some of what I've made for other folks in my Customer's Scrapbook




Come we now to the big leagues. When a single drawer case just won't get'er done. These drawer cases are designed to fill a wall -or an entire room.
DISPLAY CASES:
You begin with a wonderfully useful Riker mount and then put it in a hardwood frame and display in on the wall. These frames are also part of my Riker Slide-In drawer system.

An entire system to showcase any-dang-thing you think is valuable -and if it's in a shadow box it IS valuable –or at least interesting, unique, and therefore collectable.

The best and easiest way to display and protect dolls. This is a framed shadow-box with an upholstered insert that holds Barbie –and not just Barbie –anything about that size can be easily protected & displayed.

These are big flat shadowboxes sized to display big flat things –things like athletic jerseys, special T-shirts, tapestries etc.

These display cases give you the ability to take it out and play with it, and then to safely put it away again. Perfect for trains, shot-glasses, figurines, crystal etc.

Halfway between one of my Shadow Boxes & a picture frame from the art store. A little deeper then one, and a little shallower then the other. But perfect for the printed page.



These cases are sized to go along with my Architectural Drawer Cases. They are the way to go for the REALLY dedicated collector who has a true Home-Museum.
MISCELLANEOUS / SPECIALIZED:

Furniture:

Perhaps the last word in elegance for the collector. Here we have elegant period coffee-tables. They are made to custom size, and with your choice of wood & finish- with a glass tabletop over an upholstered display.




If a little less ambitious then my coffee table, these are perhaps more adaptable and suit a wider range of applications. Detachable legs, less expensive and safer with an acrylic window instead of glass.

(see above)

(see above)





Just the thing for a pen or pencil collector. Fluted inserts fit jewelry boxes etc. and are covered with green felt.

Perfectly sized to fit both my Jewelry Boxes, Doll Display Cases, and industry standard jewelry boxes. Black, flocked styrene.

These well crafted boxes come with a hinge, hasp, & window. Perfect for transporting, showing, and protecting collectables.

back to TOP