Knives:
Storage & Display for Knives:

Knives can be absolutely beautiful things and I don't care how PC you are. Arguably, knife making is mankind's first art. A lad's first pocket knife is some kind of rite of passage. (I lost mine in about a week.) One of the few lessons that life has had to teach me only once, (or not many times more then once), is to always use a sharp knife because a dull one is the one that will cut you, -never mind doing a sloppy job.
Most knives are smallish things -unless they are large things -and then they are swords aren't they? In any case, a nice drawer case is a great way to store your knives.
Check out one of my finished Drawer Cases. This one is called a Multi-Depth -this means that the top drawers are shallow and bottom drawers are deeper. A handy thing.
I have a line of Presentation Boxes that you could use as a display case for a single special knife. They were originally designed for knife makers to deliver custom knives that might run $2000 or more.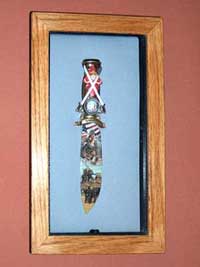 Yes, I know it's a DOLL Display Case, but it's perfect to display a knife. The tie used to hold the doll in is in just the right place to tie a tactical or hunting knife in just under the handle. (Seems Barbie's legs are about the same length as a nice knife's blade. Who knew?)
For your best knives, consider putting a few of them in a Shadow-box -and if they are especially valuable or you have wee-ones about the house, I make Display Cases that lock too.
To display a really large knife collection (or swords!) consider one of my Jersey Cases.
How-To for Knives: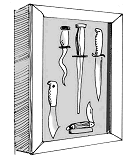 Beautiful things, knives. So beautiful that they deserve a special display. With one of my cases -or one of your own- here is how to Display A Knife Collection Part I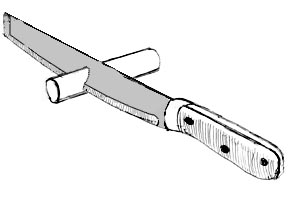 The previous is for displaying knives on the wall in one way or another. Displaying Knives, Part II offers a simple method to display them on a flat surface -under glass even, or in a drawer.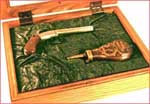 Finally, given the size of knives, (and given their simple beauty and appeal), they may deserve a lined drawer -and it's easy to do! Have a look at my How-To article -French Lining Drawers.
Interesting Links:
Now this Ben Potter guy is a craftsman -and an historian -or a historian of craftsmanship. Makes absolutely beautiful knives & swords. By hand -largely the way they did it 500 - 1000 years ago. He also has a killer web-site -videos and pictures of him doing it.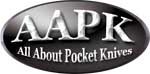 All About Pocket Knives sez-it. All -and I mean ALL- there is to know about pocket knives.
Cutler's Cove is a commercial site for vintage knives. It's very well organized and it has lots of free How-To stuff for knife collectors.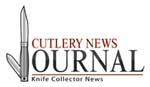 I don't know quite what to make of Cutlery News Journal, but it's interesting, well written, and has quite a lot to say about knives -and everything else for that matter.
And a related site, The Art of Manliness has nothing to do with knives, but is equally interesting, confounding, but interesting.


Knife World Magazine is a tremendous resource for collectors, and their website is just as good -it even has an index of about 20 years of articles and insight.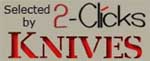 It'll take more'n 2 clicks to find all the good stuff on this site -but it will be worth the effort.