Jewelry:
Jewelry has been around for thousands of years in one form or another. They dig up or thaw out some poor dead body who wasn't hurting anyone, and sure enough, he or she is wearing a necklace made out of sea-shell beads. Then they go on & on about the fact that the Swiss Alps -for example- are poorly equipped with sea-shells and this proves something about migration or trade or pre-historic multi-level marketing for all I know.
The historians would have us believe that the object was to wear all you had and show your neighbors just how rich you were, and then get buried in it and thereby provide employment for archeologists and the like. Another theory holds that in some cultures jewelry was portable wealth. But this wealth was more likely hidden -sewn into the hems of garments and what-not. If the Cossacks came'a pillaging, you could up & run away and if you survived, you'd have the where-with-all to get a new start -or at least a few meals. But in both cases, jewelry was on the body all the time. One wonders when people (women) accumulated enough of the stuff to actually need a place to store the jewelry they weren't wearing at the moment. Or when there developed an aesthetic of "Less is more." -jewelry-wise. In any event, it must have been about this time that jewelry boxes got invented.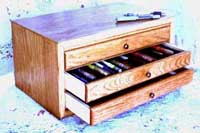 All women, (and a lot of men), have jewelry. For such people I make a line of jewelry boxes and offer flocked & divided jewelry box inserts that fit them perfectly. It's a simple case, understated and elegant if I do say so myself. Nice solution to the, "Where do we put it when we are not wearing it?" question.
But this begs another question -when does having jewelry -even a lot of jewelry- cross over to collecting jewelry? Well, I can answer that question. Certainly when the collector researches his or her stuff and acquires items that will never be worn -at least in public. But more then that, it's also when a jewelry box -even a big one just doesn't get the job done. Have a look at some of the custom jewelry boxes, (jewelry chests actually), I have built for some damn impressive jewelry collections.
This is for Ed's cufflink collection Even has a secrete compartment.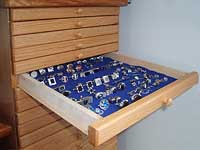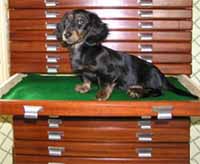 This case is for a husband and wife team that collect jewelry sets and antique ones at that no less. The case is about 4 feet tall, made from mahogany and has 21 drawers. I think this qualifies as a jewelry collector rather then a mere jewelry wearer. (Not sure what to make of the little dog.)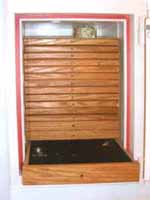 This is a custom case to hold her jewelry, his watch collection, and their mutual Green Bay Packers pin collection and it fits into a wall safe. I actually made two cases -one for their summer home and one for their winter home. They had a special bag sewn-up to transport the drawers back and forth. (Yep -they are from Wisconsin.)
The Mrs. is a jewelry designer. Apparently she has designed quite a lot of it! It stands 4 feet tall (on its toe-kick) and just a little over 30 inches wide. I'll save you the bother of counting. That's 34 drawers. I'm not excited about the finish -it went out the door with primer- but the customer has something special in mind that was to be done after instillation.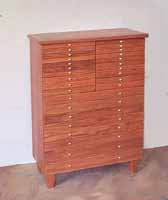 I think this might be the biggest jewelry case I've ever built. A mere 28 drawers, but 4 ½ feet tall and 3 feet wide.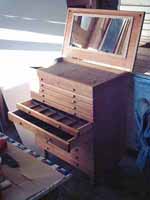 Not the biggest, but the most elaborate jewelrychest I've ever built. Lid and mirror are a nice touch, but the upolstered compartments in each drawer were extra luxurious -and an extra pain-in-the-butt to make -but anything for my customers.
The final case is for South-western Indian jewelry -silver and turquoise and all. This case also provides an object lesson. Read about Preservation Issues below.
I've also made some not-so-big custom jewelry boxes / cases.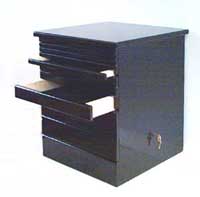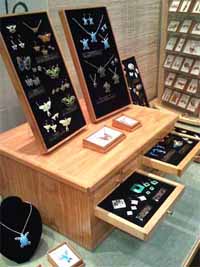 Note the gang lock on the side of the black case. The second one locks -lid & drawer together, and has a secrete compartment. The third pix shows a custom case I made for a professional jeweler to show his work and industry shows & conventions.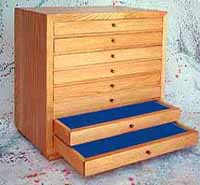 These last two are not strictly speaking, jewelry boxes. The first one is for a coin collection and the second one is just for this'n that. But both would make terrific jewelry boxes.
Preservation Issues:
I must close with a few caveats regarding jewelry. The first has to do with silver and tarnish. Tarnish will happen -perhaps slowly, but it will happen. But heaven forbid you do something to hurry it along. Turns out that what you put your silver on might well be responsible for tarnish. Synthetic fabric is bad. Cotton is better, Tarnish Cloth is best. And yep, from bad to good is also from cheap to expensive.
Consider the case I mentioned above. I made this for a nice lady who collected silver & turquoise jewelry. She read my article on Fabric and decided that synthetic head-liner fabric -the stuff they make to put on the ceiling of your car- would make a nice lining for her drawers. Something to keep things from sliding & rolling around. Long story short -some weeks later she was obliged to take the head-liner stuff out and toss it. She also had to polish her silver jewelry. I'm embarrassed to say that she was following my advice. But it was good advice, just not for silver. Synthetics -and lots of other materials- out-gases stuff that tarnishes silver.
There are two ways to go here. Tarnish-cloth is made with tiny bits of sacrificial silver imbedded in the cloth. Good stuff, but ever-loving expensive. Google 'tarnish cloth' and you will find all sorts of sources. Another company, Fifield Fabrics, offers what they call SilverShieldTM , which has secret chemistry imbedded in the fabric and does the job a little cheaper.
In another direction, as I was researching an article on security -protecting your stuff from thieves and such- a cop told me that jewelry boxes on m'lady's dresser are a great convenience to burglars. They make it easy for him to find and carry-off her jewelry quickly and efficiently. And note I make jewelry boxes for some part of my meager living?!?
Here is your assignment. Read up on the following if you are a serious jewelry collector:

A visit to the Fabric Store
Archival Materials
Using Desiccants
Security
Interesting Links:

Great Vintage Jewelry has a wonderfully selection of vintage / antique jewelry from our parents era -or my parents era anyway. Marilyn Monroe, Jean Harlow and all.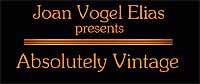 Joan Elias' Absolutely Vintage site is commercial, but has lots of well organized OLD stuff, including Victorian, Edwardian, Art Nouveau, Art Deco, and Retro pieces.

For the sentimental sort, Cherish Collectables has some lovely stuff. Hand done even! And they are very nice people.

JewelrySupply.com has jewelry making supplies. No big surprise there I suppose, but what is surprising is the amount of stuff they carry, for both the store and the dedicated hobbyist. It includes tools, boxes, displays, beads, findings, magnifiers, watch batteries, and interesting little tools!