Guns:
Display Cases for Arms etc.:
I know guns are not politically correct, but you have to like guns on some level. Or respect them, or fear them as the case may be. This suggests that unless guns are thoroughly "disarmed", they ought not be displayed except locked into strong glass display case. Truth to tell, I have a small collection of muzzle loading, black powder, "Pirate Pistols." The pistol below, for example, is actually a two-barrel -side-by-side derringer that uses percussion caps. Pretty little thing. And the powder flask is nice too.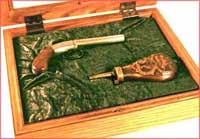 And if you are interested in how I made the velvet lining for this display case, check out French Lining in my How-To Articles section.
NOTE: I store an EMPTY powder flask next to an UNLOADED pistol -(CAPS AND BALLS STORED ELSEWHERE)- in an unlocked display case in my study, but I don't have kids.
Interesting Links:
I've come to find that the NRA has both a political arm and -for want of a better word- a practical arm. The political side of things is handled in DC -no surprise there. On the other hand, the practical side of things -things involving actual guns and bullets- is done in New Mexico at the NRA Whittington Center, and a dang impressive layout these folks have. Many various ranges for all manner of shooting. Contests and safety research and instruction are take very seriously here. They have a wonderful museum of firearms and a collection of 14,000+ bullets that needed a home. This is where yours-truly came in. I built them 6 drawer cases with 10 drawers each -each drawer full extension with a sliding acrylic panel to keep unauthorized fingers out. Proud to have been a part if it all.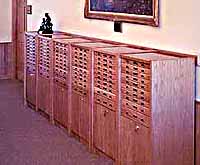 Greg Martin Auctions has a large elegant site dedicated to Fine Arms and Armor. Very impressive!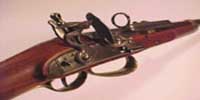 The GPCC Collectors Club has a nice site on Toy Gun Collecting.